The Best Eco-Friendly Gifts For A Cleaner, Greener Christmas
This blog post presents seven eco-friendly gift ideas 🎁 for Christmas for your friends and family without the guilt of hurting the air they breathe in.
It's that time of the year again…
The breeze is getting colder, and hearts are becoming warmer. People are traveling back home to their families, the Internet is flooded with creative gift-wrapping ideas, and shops are brimming with people buying the perfect presents for their loved ones.
But did you know? Over 32 million people receive a gift they don't want every Christmas. Every penny we spend on getting these unwanted gifts goes on to either fill up the landfills or lay wasted at the back of a closet.
It's time we think about our purchases and how they affect the future of our planet. If you are into sustainable living, you must be thinking of ways to make your Christmas greener and eco-friendlier.
Here are our two best tips: consider your gift choice and ensure that what you buy does not hurt the planet.
This blog post presents seven eco-friendly gift ideas for Christmas that are practical and sustainable.
You can get them for your friends and family without the guilt of hurting the air they breathe in.
So let's start gifting!
7 Eco-Friendly Gifts To Make Your Loved Ones Happy
While buying the best eco-friendly gifts for your friends and family, it is essential to consider the following:
What is it made of? How was it made?
Is it usable for a long time?
Do the brand you are shopping from provide sustainability credentials?
Does the recipient have a use for the gift you are buying them?
What material are you using for wrapping?
Here are our top picks for eco-friendly gifts that check all the boxes for sustainability and ethics:
Nothing feels better than a little pampering! Gift your loved one a Full Body Skin Care Set for a laid-back spa day at home. The set consists of 7 luxurious products to cheer up a skincare enthusiast.
All Full Body Skin Care Set products are eco-friendly with sustainable packaging. And the best thing about them is: everyone loves them so they won't go to waste!
This one is for all the beautiful women in your life who sometimes feel disconnected from their inner goddess. Gift them an all-in-one hair and body treatment to bring out their best selves and help them feel like the diva they are.
Socks have always been a staple Christmas gift. But they can easily make you look thoughtless if you buy them randomly. Go for the Modal Cable-Knit Ankle Socks to show how much you care for your loved ones and the planet they call home.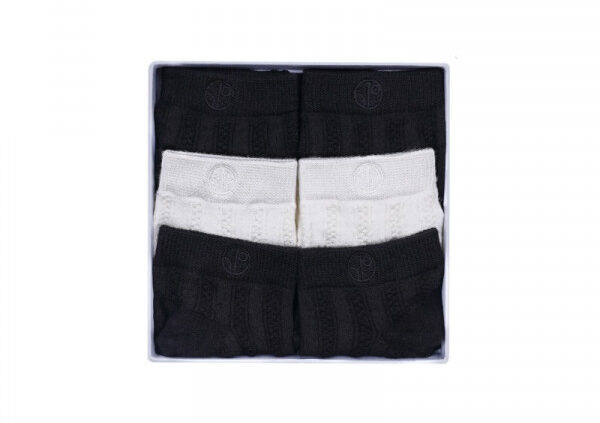 These cable-knit socks are soft, comfortable, and warm. But the best part about them is their sustainability. We love them the most because of their ethically-sourced materials, eco-friendly fabric, and reinforcements in stress-prone areas to make them last longer. Plus, they are easy on the pocket, making them the perfect eco-friendly gift on a budget.
What's a better time to gift a cardigan than Christmas? The snowy weather ensures your gift will be loved and used to its full potential.
Keep up with the spirit of giving, and get the Bolita Navy Cardigan for your friend, wife, girlfriend, or sister. The feminine cuts and vintage style will get an instant nod of approval as soon as it comes out of your biodegradable gift wrapping.
RELATED: 10 Sustainable Fabrics for the Most Eco Friendly Shopping
Moreover, it is made from ethically-sourced wool and uses non-toxic dyes, making it our favourite eco-friendly gift for this Christmas.
Eco-friendly Gift Tip: Always pass on authentic care instructions to the receiver to help your sustainable gift last longer.
The Eucalyptus Silk Duvet shell is made of eco-friendly eucalyptus fabric. The filling uses recycled plastic bottles mixed with bamboo fibres for the ultimate warmth. Gifting this duvet saves 50 plastic bottles from ending up in landfills and 12 geese from plucking for their feathers.
We don't think a better gift exists that warms up both our hearts and body!
If you know a guy with a lot to carry upon his shoulders, get this Buffalo Paper Leather Backpack by etéreo. The cool-looking bag is super light, washable, spacious, and durable enough to handle a laptop, travel supplies, and more.
Also, paper leather is an ethical substitute for leather that does not hurt the environment or living beings. Did you know? Production of conventional leather damages the ecosystem three times more than polyester. Its poor standing on the sustainability index is due to its massive contributions to global warming, water contamination, and air pollution.
Paper leather is an excellent alternative since it is plant-derived and possesses all the good qualities of leather. It is waterproof, sturdy, and can be dyed, printed, and embossed. It makes the perfect eco-friendly gift for him!
We all know a die-hard fan of scented candles. The Netflix & Candles BUNDLE is the perfect eco-friendly wellness gift for them. It includes three amazing-smelling candles with cotton wickers, 100% natural coconut-soy wax, and the cutest little reusable containers.
The scents are extraordinary and instantly elevate the mood of a place. Ideal for someone who loves to create the cosiest environment for a movie night. Plus, when the candles are all used up, and the containers are empty, you can always wash and reuse them. Stock your hair pins, hold pencils, grow succulents, or even drink cocktails. Repurposing at its best!
Tis The Season Of Giving! Don't Forget To Give Back To Your Environment
True happiness is one that is shared. Eco-friendly gifts are excellent for sharing your love with friends and family without the cost of a dirtier, sicker planet.
Searching for a one-stop shop for all your sustainable Christmas presents? Look no further! We know just the place. Buy all your eco-friendly gifts from one online shop like the Swiss Impact Store to save shipping costs and fuel consumption.
So, go shopping and have a Merry Christmas!